Significance testing options
OK, here we see the distribution of correlation coefficients, and their significance. Note that we chose "significance.option = 'raw'", so in green we see the distribution of significant correlations as determined by a standard T-test, without any consideration of autocorrelation. In this case, we observe that 13.5% of the correlations are signficant. Of course we know this is a very simplistic approach, and that with many paleoclimate datasets we must consider the impact of temporal autocorrelation, which can readily cause spurious correlations. geoChronR addresses this point using three approaches, which are elaborated on in the geoChronR manuscript, and summarized here:
The simplest approach ("eff-n") is to adjust the test's sample size to reflect the reduction in degrees of freedom due to autocorrelation.

Alternatively, the "isopersistent" option will generate surrogates, or random synthetic timeseries, that emulate the persistence characteristics of the series, and use those to estiamte significance.

The final option, "isospectral" also generates surrogates to estimate significance, but does so by scrambling the spectral phases of the two datasets, thus preserving their power spectrum while destroying the correlated signal.
Let's take a look at each of these three options,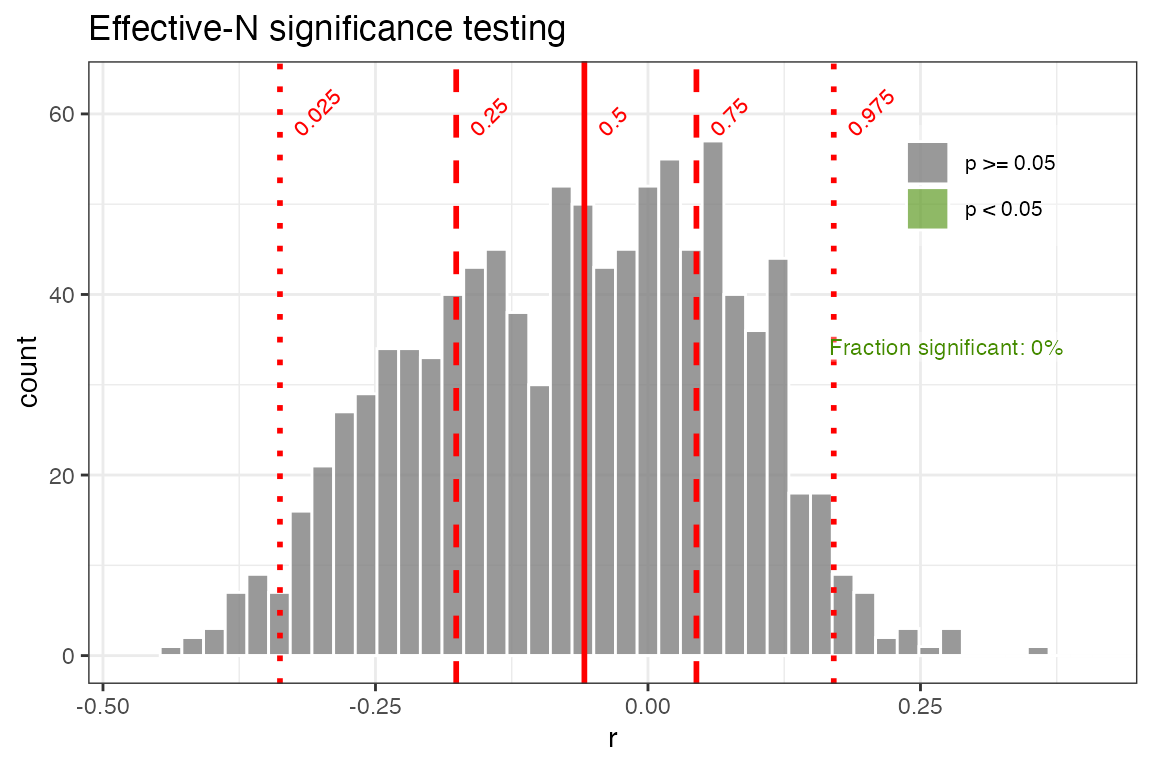 Here we see a dramatic effect of accounting for serial autocorrelation in our significance testing. Using the "effective-N" method drops the percentage of significant correlations (at the 0.05 level) to 0. However when autocorrelation is large, this approach dramatically reduces the effective degrees of freedom and has been shown to be overly conservative in many cases. So let's take a look at the surrogate-based approaches.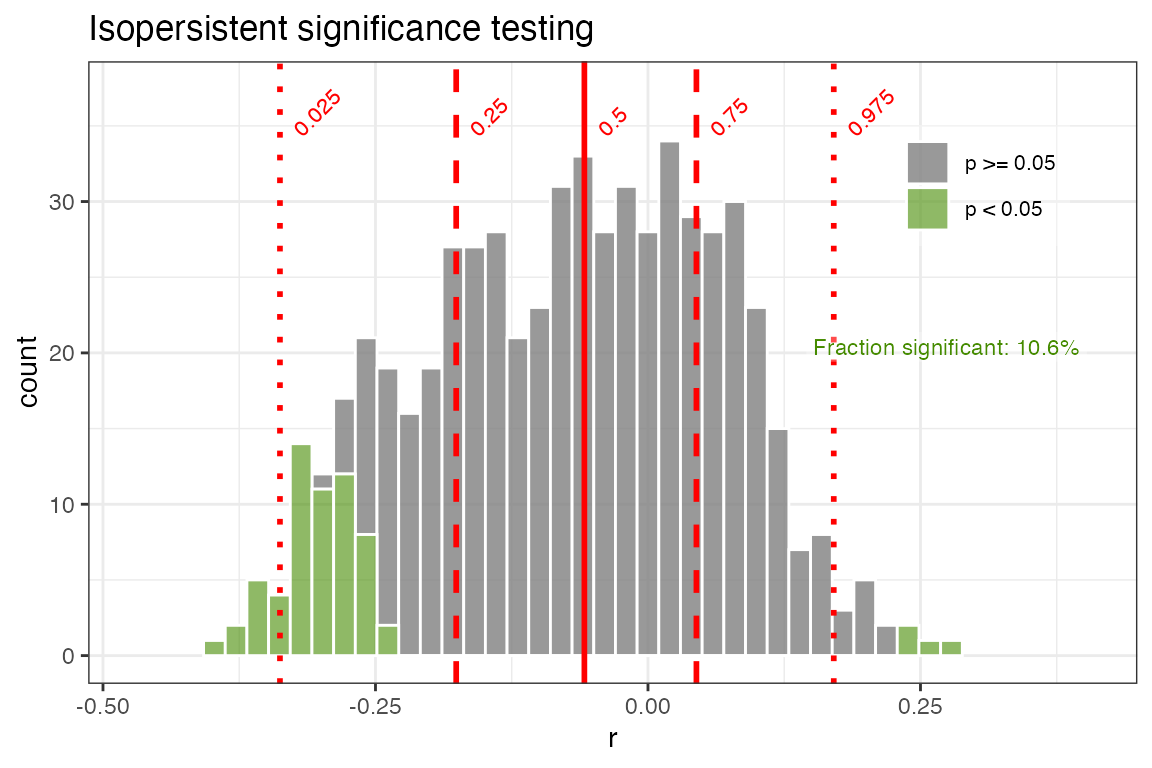 Using the "isopersistent" approach, where we simulate thousands of synthetic correlations with the same autocorrelation characteristics as the real data, and see how frequently we observe r-values at the observed levels, gives a much less conservative result. In this case the fraction of significant correlations is only slightly smaller than when not accounting for autocorrelation at all.
This is a good point to note that we have another statistical problem on our hands. In addition to the impact of autocorrelation on this analysis, repeating the test over multiple ensemble members raises the issue of test multiplicity [@Ventura2004], or the "look elsewhere effect". At a 5% significance level, one would expect a 1000 member ensemble to contain 50 spurious "discoveries" – instances of the null hypothesis, here "no correlation" being rejected. To overcome this problem, we control for this false discovery rate (FDR) using the simple approach of @BenjaminiHochberg95, coded in R by @Ventura2004. FDR takes this effect into account to minimize the risk of identifying such spurious correlations merely on account of repeated testing. In effect, it filters the set of "significant" results identified by each hypothesis test (effective-N, isopersistent, or isospectral). Let's plot this again, but turn the use.fdr option to TRUE.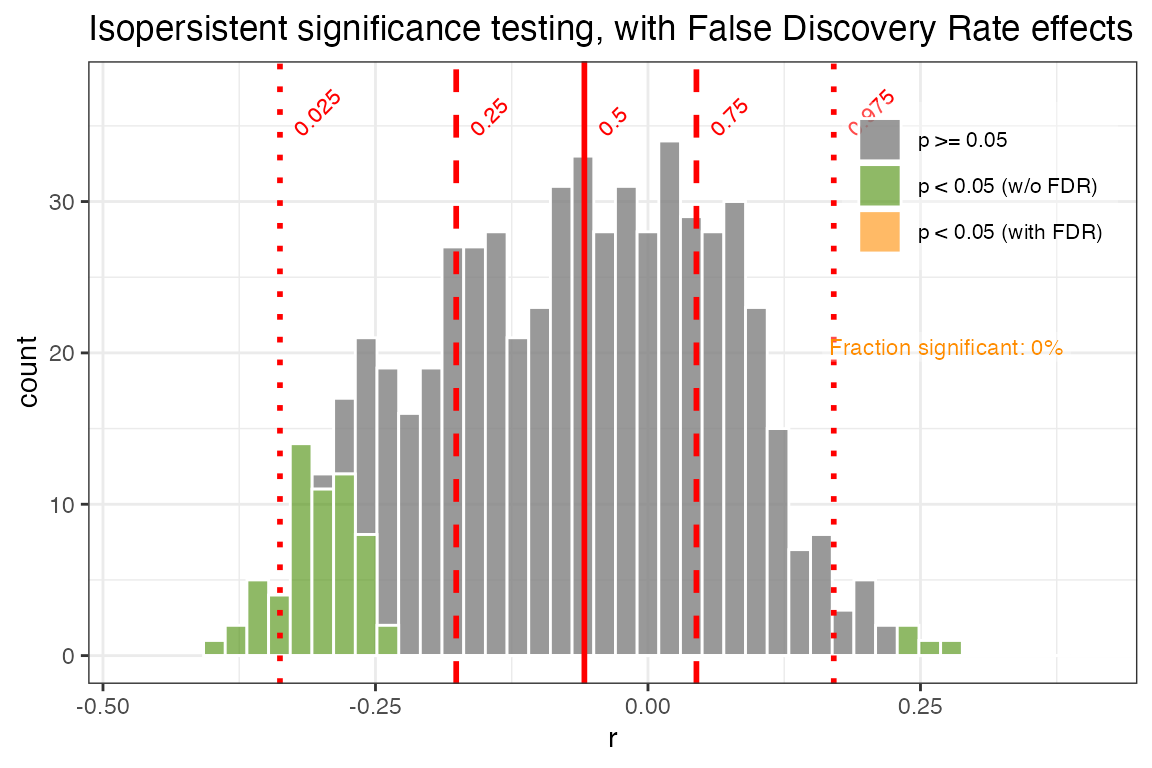 Now we see how accounting for FDR can further reduce our significance levels. In this case, all but a small fraction of the significant correlations are expected due to test multiplicity - the randomness that we're sampling by repeating the correlation across 1000 ensemble members. After acccounting for this, only 0.2% of the ensemble members are significant.
Note that accounting for False Discovery Rate is a separate process than deriving p-values, and can be applied to any of the significance.options in geoChronR. For our final example we'll take a look at isospectral significance testing and account for FDR.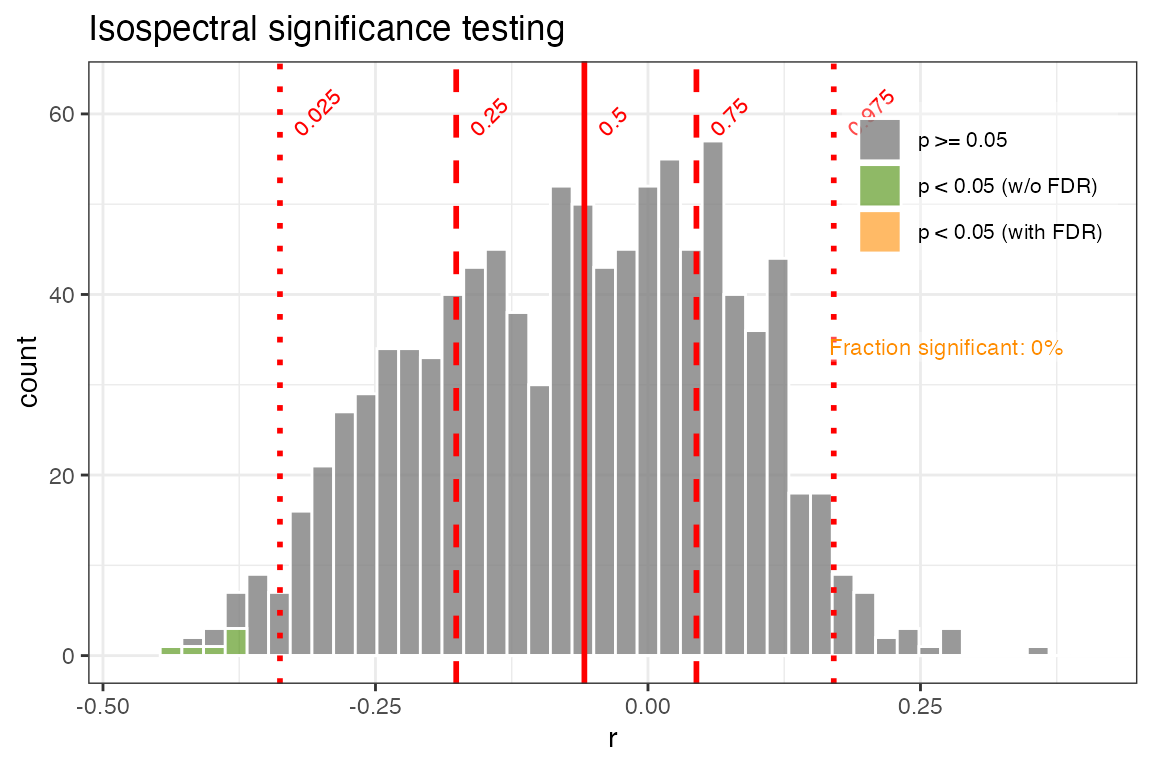 In the isospectral test, only a few of the ensembles members are significant, none of which remain upon adjusting for FDR. This method makes the fewest assumptions as to the structure of the series, and its computational cost is moderate, and so it is the default in geoChronR. We also recommend including FDR adjustment to avoid test-multiplicitly corrections.